The first settlers in Sweet Home, William Clark and Wesley Powell arrived in 1851 but did not remain long. Then, in 1852 Lowell Ames and his family came from the Holley area to start a sawmill and become the first permanent settlers.
Sweet Home was originally inhabited by the Santiam Kalapuya, who had inhabited the area for thousands of years. Evidence of the Kalapuya inhabiting the area can still be found in several locations in the area.
The name "Sweet Home" was first used for the Willamette Valley. By 1855, the Russell, Pickens, and Young families referred to their homes as being in the Sweet Home Valley. A story told to her grandchildren by Susan Powell Russell, wife of Newton Rusell relates that her brother, Wesley Powell and his friend William Clark were responsible for the name. Powell and Clark, she said built a log cabin astride the line dividing their two claims so that each could live on his own land and from his own table. One spring evening after the rain had cleared the air; they watched the golden light from the setting sun touch the tops of the mountains and said to each other, "What a beautiful valley! It ought to have a name. A good name would be Sweet Home!" Another account says that Mr. Clark looked at the view from the cabin of John Gilliland (adjourning the Russell donation land claim) and said "You certainly have a sweet home here." And still another account says Lowell Ames loved to sing the song "Home, Sweet Home."
While the valley was known as Sweet Home, the town began with two other names. The west end of town near Ames Creek was known as "Buckhead." The name came from a saloon and a store that bore an exceptionally fine set of elk antlers on the gable end, owned by Zela Buford Moss. At the east end of the road was Mossville, with a post office and a store run by Jim Simons in the old Moss Hall. Jon Donaca built Sweet Home's first hotel in 1860 near what is now the intersection of 10th and Main Street. The City of Sweet Home was then incorporated in 1893. The first subdivision was surveyed around 1878 by Joe Ames, and it consisted of four city blocks, and the lots sold for ten dollars each. Sweet Home's economy then centered around the fur trade, small farming, livestock, and small businesses. Many logging camps housed families who later stayed on and built homes in the area, and many people came to Sweet Home because of the booming timber industry here. Almost overnight, because of the demand for lumber created by the defense program of the 1940s. The sleepy little village was transformed into a boomtown with logging operations throughout the area.
A second boost was given to the community in 1962-1963 when construction work started on nearby Green Peter Dam. Instead of Sweet Home being stuck away by itself, as it was for eighty years, it now became a gateway to recreation and industrial activities in East Linn County.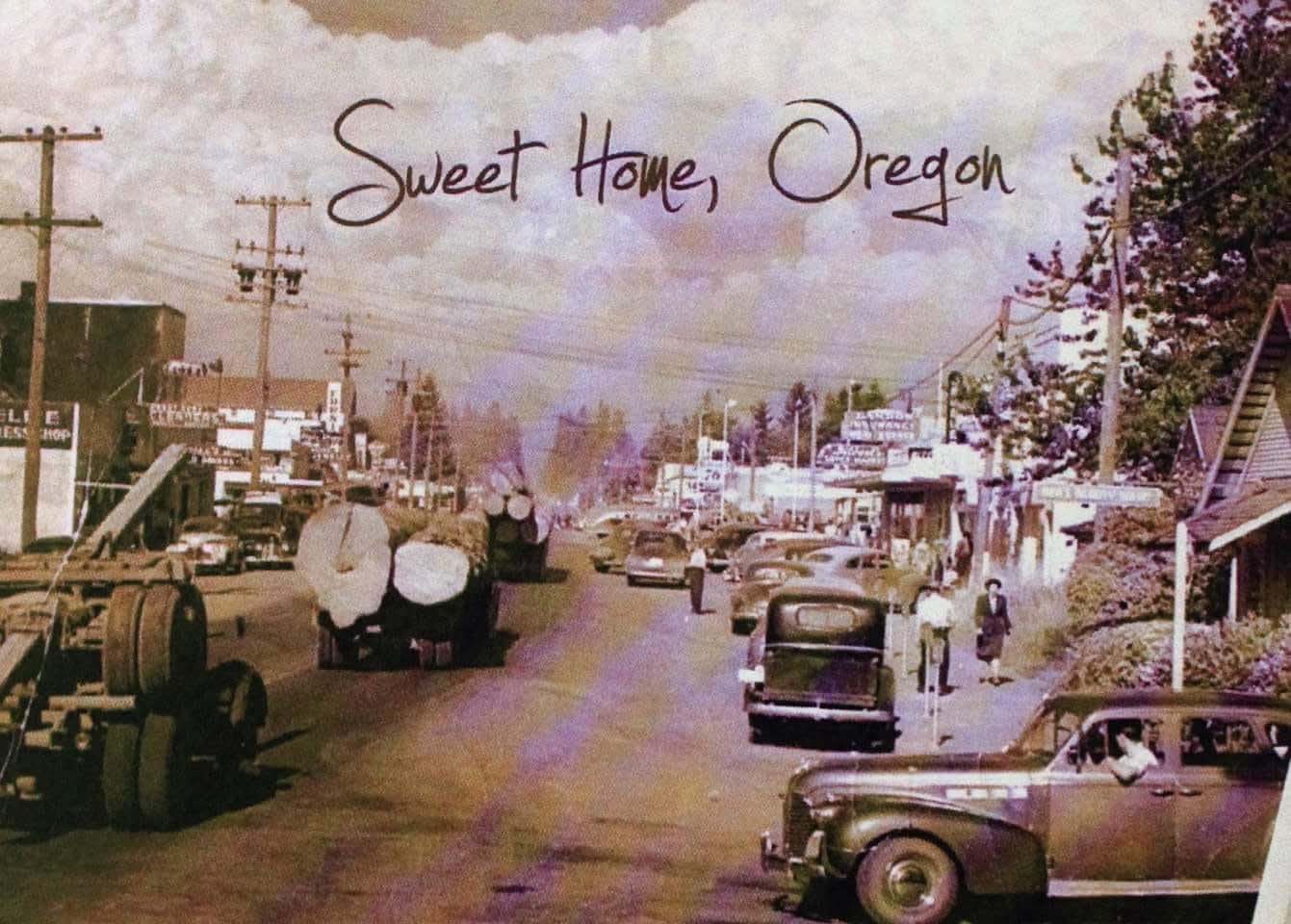 During the 1980s, Sweet Home experienced a significant decline in population and industry as environmental issues forced the closure of sawmills and logging operations. However, during these challenging times the community banded together and rode through the changes, eventually turning the tide of recession into a wave of progression. Throughout the 1990s using grant dollars provided by the Federal Government, Sweet Home's downtown corridor was revitalized, small businesses were encouraged to come to Sweet Home, assisted living facilities were built to accommodate a retiring community, and later, the Oregon Jamboree  brought an annual 10,000 to 12,000 people to town with it's Northwest Premier Country Music Festival which boasts three days of camping and music in August of every year.
Sweet Home is built on the site of a prehistoric forest, which makes it a favorite destination for rock hounds. People have found arrowheads, fish-eyed agates, seventy different kinds of petrified wood and fossilized leaves and the rare stone Blue Holley. There is plenty of camping, and hiking trails to explore as well. to explore as well. Sweet Home is also an excellent place to settle in for sportsmen. Hunting, boating, and fishing can be done year-round, and skiers are only 45 minutes from recreation.
A stop at the East Linn Museum is a must for all visitors. The building and grounds house generations of artifacts that depict the many phases of Sweet Home's rich heritage. Axes, mauls, and cross-cut saws are a surviving reminder of early logging methods. Be sure to go and see the Weddle Covered Bridge, a community restoration project, that adjoins historic Sankey Park.