Let's Paint the Town Project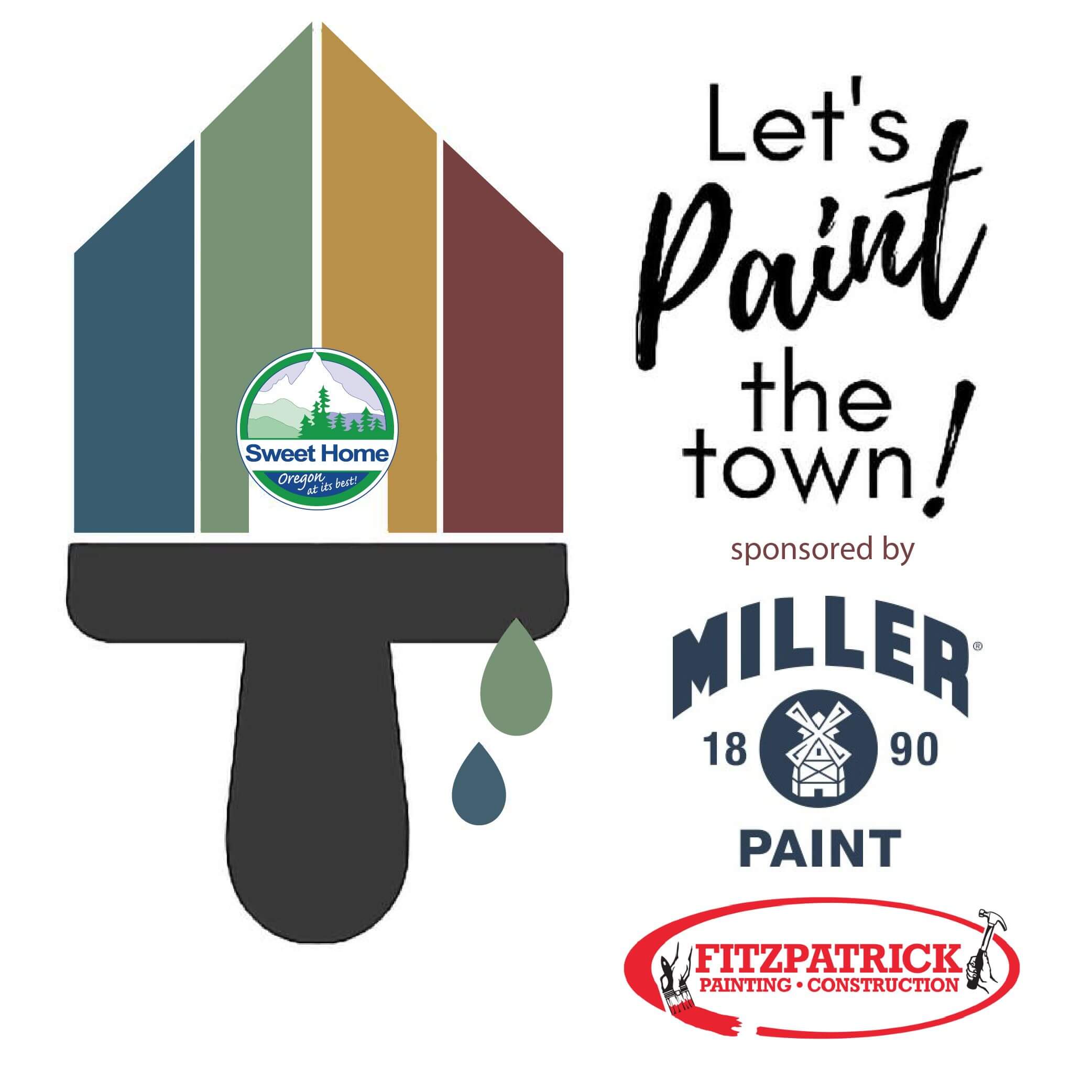 Miller Paint & Fitzpatrick Painting and Construction Partner with Sweet Home, Oregon, to Transform Downtown Retail District Through Color
 The Let's Paint the Town Project will bring color to over 45 retail shops, offices, and restaurants with a Northwest-inspired color palette, including 10-12 original murals.

Sweet Home, Oregon, a picturesque town nestled near the foothills of Oregon's Cascade Range, began a colorful renaissance. The Downtown Painting Project, aptly named "Let's Paint the Town," which commenced mid-July 2023, is a collaborative endeavor between Miller Paint, Fitzpatrick Painting and Construction, and the City of Sweet Home. This transformative project aims to breathe new life into the town's historic downtown, revitalizing over 45 retail shops, offices, and restaurants with a vibrant Northwest-inspired color palette.
Once thriving during its logging heyday, Sweet Home's downtown area has faced economic challenges recently, resulting in vacant storefronts and faded facades. "Let's Paint the Town" heralds a new era for Sweet Home as over 200 volunteers, including City Manager Kelcey Young, Mayor Susan Coleman, City Councilors Lisa Gourley, Josh Thorstad, Angelita Sanchez, State Representative Jami Cate, many city staff and also other community agencies including the Sweet Home Fire District and Oregon Department of Forestry, all led by painting contractor Fitzpatrick Painting and Construction have spent the past several weeks painting downtown buildings.
The City of Sweet Home worked closely with Miller Paint's color consultants, who chose the Northwest Color Collection. This colorful palette resonates with the spirit and style of the Pacific Northwest, offering 132 paint colors inspired by the region's diverse landscapes. Using high-quality paint materials from Miller Paint ensures the transformation will be enduring and visually striking.
Kelcey Young, Sweet Home City Manager, expressed her enthusiasm for the project, stating, "Our partnership with Miller Paint is allowing us to transform how Sweet Home presents itself to both tourists and residents. We have so much natural beauty and cultural history in our town to share, and we think a refreshed downtown with vibrant storefronts will encourage people to stay longer and help our local businesses to thrive." Young also expressed her gratitude: "We are so grateful for Fitzpatrick Painting and Construction and Miller Paint for helping us revitalize our downtown. We couldn't have done this without them."
Sweet Home Mayor Susan Coleman said, "Through the Paint the Town Project, Sweet Home has been blessed to invest in our community in a way that doesn't come along very often. We have heard about what could not be done to fix our downtown core for years. With fresh eyes on our town, we were able to dream of the possibilities of what could be done. By painting storefronts along Main and Long Streets, our desire was to beautify Sweet Home, boost community spirit, and ultimately stimulate economic growth. We were amazed when businesses saw our vision and wanted to jump on board. The Sweet Home community is profoundly grateful to Miller Paint and Fitzpatrick Painting in their investment into our town. And we could not have accomplished so much without the community volunteers who came out on Saturdays and the local businesses who donated snacks and food. We are excited to see what the future holds for Sweet Home."
Miller Paint's Vice President of Marketing, Color & Brand, Puji Sherer, emphasized the power of color in community transformation, saying, "Color has the power to transform a community, and we believe that a colorful downtown can inspire pride and make Sweet Home a destination for local Oregonians and those visiting our beautiful state."
Kris Mannale, Business Relations Manager at Fitzpatrick Painting and Construction, expressed their excitement, saying, "It's an absolute honor to be part of this initiative to restore and revitalize Sweet Home's downtown area. Our team is thrilled to donate a portion of our workforce to this cause and work closely with Miller Paint to ensure the utmost quality in every stroke. We believe that by investing in our community, we can contribute to its prosperity and create a lasting positive impact."
Local business owner David Bauer of Steelhead Fitness echoed this sentiment, expressing his gratitude for the initiative, "The downtown paint makeover will give tourists a reason to stay longer in our town, look around and spend money. Thank you again to The City of Sweet Home, Miller Paint, and Fitzpatrick Painting for making this happen."
Sweet Home is poised to embrace its vibrant heritage, welcoming visitors to experience its natural beauty and cultural riches in a revitalized, colorful downtown.